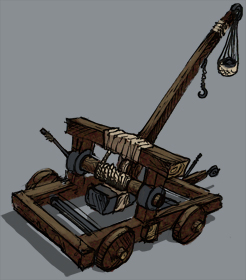 Trebuchet are the ultimate medieval siege engines. Trebuchet are able to damage and destroy any building in the village unlike Rams which can destroy only walls.
Trebuchet are most efficient at attacking defensive towers and very poor at targeting the wall as compared to Ram. They also do a good job with other buildings.
Remember that you will need certain # of trebuchet in one attack just to downgrade a building by one level. At higher levels, you may need 40 or more trebuchet just to downgrade it by one level.
You should seriously consider to have trebuchet with each of your attacking armies so that they can destroy the towers before your troops storm the castle.
Ad blocker interference detected!
Wikia is a free-to-use site that makes money from advertising. We have a modified experience for viewers using ad blockers

Wikia is not accessible if you've made further modifications. Remove the custom ad blocker rule(s) and the page will load as expected.